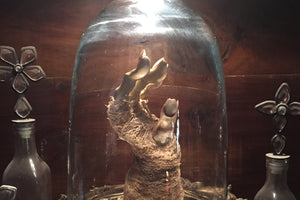 Unique Ideas and Products
​I've moved! Now located inside the Terror Trader!
941 W Elliot Rd Suite 3
Chandler, AZ 85225
Terror Trader is on the South/East corner of Elliot and Alma School Rds in Chandler, AZ.
Wednesday - Sunday
11am to 7pm
Halloween is my favorite holiday and I live it year-round. I have collected my best decorating ideas, tutorials and creations from my studio for you to explore.
I love to create Halloween items from treasures I find while out thrifting. Each of my one-of-a-kind items begins with a discarded item that I up-cycle into something creepy cool for your home or holiday display. 
My tutorials will show you ways of making your home haunt come alive quickly and inexpensively. No need to buy expensive plastic decorations from the big box stores. I'll help you scare up a little creativity, so you can make your own decorations and vignettes.